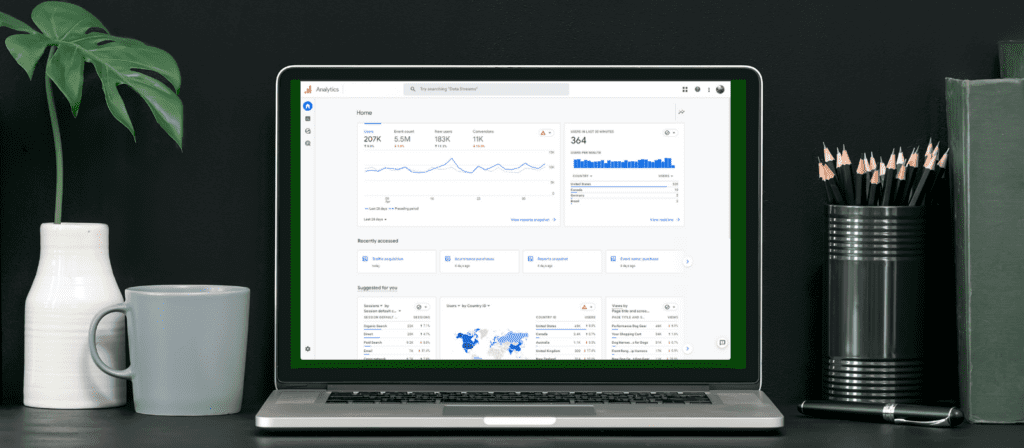 GA4 Overview and Essential Reports Quick Look: What You Need To Know
GA4 Overview and Essential Reports Quick Look: What You Need To Know
https://www.lodestarmg.com/wp-content/uploads/2023/05/ga4-overview-essential-reports-quick-look-need-to-know--1024x448.png
1024
448
lodestar
https://secure.gravatar.com/avatar/d865e1c3ed859de5149f646d039b95dd?s=96&d=mm&r=g
On July 1, 2023, Google's Universal Analytics (UA) will go away and be replaced by Google Analytics 4 (GA4.) The latest version of Google's web analytics platform differs from the current version of Google Analytics in several ways. Here is an overview of a few of the key differences:
Event-based tracking: In GA4, event-based tracking is the primary way of collecting data, allowing you to track specific user interactions on your website. This is different from UA, which uses page views as its primary data point.
Cross-device tracking: GA4 is designed to track user interactions across different devices and platforms, allowing you to get a more complete picture of user behavior. However, UA relies on cookies, which have limited ability to track users across devices unless the user gives full permission.
Machine learning and AI: GA4 uses machine learning and AI to provide advanced insights and predictive analytics, making identifying trends and patterns in your data easier. UA has some machine learning features, though none are as advanced as those in GA4.
Data control and privacy: GA4 includes new data control and privacy features for more user control over their data and business compliance with regulations like GDPR and CCPA.
Overall, GA4 is designed to be more flexible and provide more advanced features than the current version of Google Analytics. It's also more focused on user privacy and data control, which is increasingly essential in today's digital landscape.
Once your business has made the transition to GA4, you'll want to set up reporting so that you can monitor your campaigns. Here's a Quick Look at some essential reports in GA4.
Google Analytics has a lot of reports, which can be customized in a hundred different ways. But if you're new, you can still get a lot of valuable insights out of a few essential built-in reports that come ready to go in Google Analytics.
Real-time shows you what's happening on your site right now, including how many active visitors are on it, where they're from, and what pages they're on.
Acquisition reports give you a historical view of the marketing channels, campaigns, and locations from which you're "acquiring" your traffic, conversions, and revenue.
Engagement reports show how visitors interact with your website, your most popular pages, and what events they're triggering (e.g., scrolling to the bottom or clicking Add to Cart").
Monetization reports tell you how your website properties are making money, from the number of purchasers to the revenue generated.
Retention tells you how many returning visitors your website is getting and offers insights into their engagement and purchasing behavior.
Demographics breaks down behavioral data by country, city, language, age, and gender of your visitors.
Tech displays information about the devices, browsers, and screen sizes used to browse your website.
Attribution reports plot your website visitors' interactions with your marketing efforts on the path to purchase, giving you insight into your most valuable touchpoints.
As you may start to see as you navigate through GA4, there are a lot of features. If there is anything you are struggling to find or do, contact Lodestar Marketing Group today. If your business still needs to transition to GA4, please reach out to our experts.