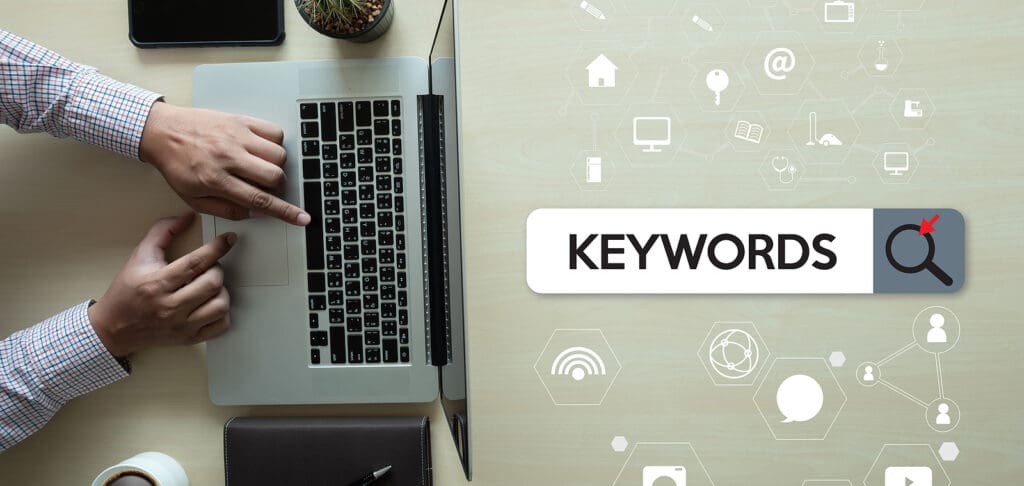 The Foundation of SEO: Keywords
The Foundation of SEO: Keywords
https://www.lodestarmg.com/wp-content/uploads/2023/10/foundation-seo-keywords-lodestar-marketing-group-bsp237322030-e1697839695919-1024x486.jpg
1024
486
lodestar
https://secure.gravatar.com/avatar/d865e1c3ed859de5149f646d039b95dd?s=96&d=mm&r=g
When your website is optimized for search, your use of keywords leads people to your website. If it isn't optimized, then Google (or Bing) probably showed them your competitor's website instead. Here is what you need to know about keywords and why they are the foundation of SEO.
Secret Sauce
Keywords are the secret sauce that help people find your website in the vast expanse of the internet. When someone searches on Google, the engine looks all around the internet for websites with content that matches the search terms. Keywords and phrases found on your website tell search engines, "Hey, my content is relevant to what this person is looking for!" If those keywords aren't on your site, you'll be impossible to find. After all, there are over a billion websites now. Now that you know a bit more about keywords, the next step involves defining them.
Brainstorm Keywords
Begin by making a list of keywords or phrases that are directly related to your business. Think about how you describe your company, products, and services to others. Include all the keywords that come to mind: general terms such as your primary business focus, product categories, and specific names of products. This list will be the jumping-off point for the next step, research.
Keyword Research
To further explore what keywords you should be using, there are various keyword research tools available, both free and paid, such as Google Keyword Planner, SEMrush, Ahrefs, and Moz Keyword Explorer. Upload your original keywords into these tools to generate an expanded list of related keywords and relevant phrases. These tools also provide data on search volume, competitors, and keyword trends.
Analyze The Data
Review the data from your keyword research tools and pay attention to metrics like search volume (how often a keyword is searched for), competition (other company websites that are targeting the same keyword), and keyword difficulty (how hard it is to rank for a particular keyword).
 Competitor Keywords
It's important to analyze the keywords your competitors are ranking for. Your keyword research tool probably has a competitor data section to help you identify your competitors and their top-performing keywords. You may find similarities or phrases you hadn't considered.
Long-tail vs. Short-tail Keywords
Let's say you make vegan herbed butters. When choosing keywords, don't solely focus on high-competition short-tail keywords like "butter." Instead, use long-tail keywords (more specific phrases) like vegan herbed butter. These often have lower competition and can attract a more targeted audience.
Sort & Organize
Organize your tailored list into groups or content pillars, starting with your core keywords based on their potential impact and alignment with your goals, and add in secondary keywords and phrases. Consider adding some phrases as questions, like "Where can I buy vegan butter?"
Content Creation
This is where your keyword research will start to pay off. Now, it is time to develop high-quality, valuable content around the keywords you've chosen and get it published on your website. Aim for copy that's genuinely valuable to your audience to not only boost your SEO but also make your website a go-to resource in your industry.
A note of caution here. We aren't talking about the keyword-stuffing practice widespread in the late 1990s and early 2000s. Today's Google crawls for intelligent, readable content. Don't publish paragraphs of endless random keywords; today's search is smart and won't push garbled content to the results page.
Monitor and Adjust
Organic SEO takes time to prove effectiveness, and keyword research is an ongoing process for SEO. You'll need to continuously monitor your performance and adjust your strategy as needed. New keywords may emerge, and the competitive landscape can change over time. Regular scans from your web tools can help you identify additional ranking opportunities.
Remember that successful SEO involves not just selecting the right keywords but also optimizing your website, content, and user experience to align with those keywords. Contact Lodestar Marketing Group to learn more about our SEO strategies and services and how we can support your business goals.