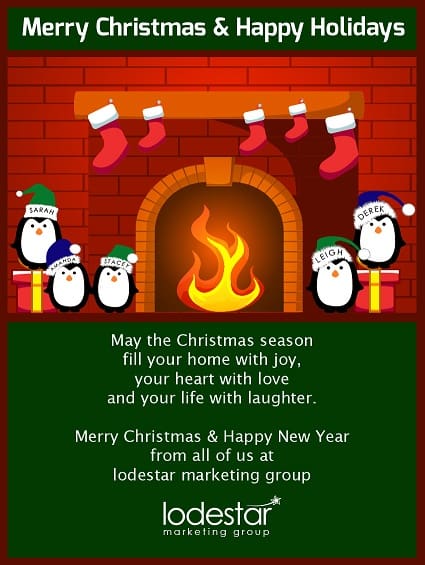 Holiday Greetings from lodestar: A Tale of Two Sisters and their Holiday Happenings
Holiday Greetings from lodestar: A Tale of Two Sisters and their Holiday Happenings
https://www.lodestarmg.com/wp-content/uploads/2016/12/holiday-greetings-lodestar-mg-2016.jpg
425
565
Sarah Schwitters
https://secure.gravatar.com/avatar/ba890194977a6c2688c4bccc2eaa46e5?s=96&d=mm&r=g
Ahh – the holidays! The most wonderful time of the year, especially for sisters Holly and Ivy.  Holly and Ivy are twin sisters who were born in December, so the holidays have always been extra special for them as they celebrate their birthdays around this time. Growing up in Seattle, the sisters always enjoyed holiday traditions that the Northwest has to offer.  One of their favorite childhood memories was the family's annual trip to Warm Beach Camp and Conference center for the Lights of Christmas. The lights at Warm Beach were simply magical and staying overnight in one of the cabins was always a highlight for Holly and Ivy.
As they grew up, both sisters married and Holly and her husband stayed in the Seattle area while Ivy moved to Southern California with her husband.  2016 will be the first holiday they've spent together in a very long time…both are extremely excited!
As we all know, the holiday season can be busy beyond belief. Don't let your health take the back seat by relying on drive thru fast food. Stay healthy while you're on the go with LUVO's tasty, convenient and healthy microwavable meals. Holly, knowing she was not going to have time to meal prep this holiday season, ordered several items online and then printed out some coupons to grab the rest of her LUVO items at the local grocery store.
On the go from sun up to sun down? Start your day off right with a 1915 Organic smoothie to give you all the holiday cheer you will need! While holly has her breakfast and dinner planned out, what about the snacks in between? Holly takes advantage of the great deals on Bolthouse Farm products. Bolthouse carries a large variety of carrots. Their Premium Sweets and Premium Chips are great or dipping in Bolthouse ranch!
While doing her "holiday meal prep," Holly can stock up on tons of food thanks to the fact that "Santa" came a little early this year when she got her brand new French door refrigerator. It's go so much more space than her old fridge and the great folks at Judd & Black Appliance delivered and installed it in no time. (That's even more than Santa would do) Hmmm, what else does she need, Oh! Right…. A few bottles of Townsend's Brew Dr. Kombucha is always good to have on hand. Not only are their drinks tasty, but some even have live probiotic cultures in them which give the immune system a great boost during cold and flu season. Plus, when you've got a house full of people, it's good to have some immune boosters on hand.
Now, onto the gift shopping. Holly will need to get cash from her local Coastal Community Bank, and thankfully they have many locations. Furthermore, she can go to one of their many free ATMs and get just what she needs. She can also manage her account online with their easy mobile app which will be great for tracking expenses during the holidays.
What can Holly get for Ivy and her family that would be some great stocking stuffers? Perhaps something that the whole family can enjoy? Gift Cards to Stonefire Grill make the perfect gift for family and friends in who live in Southern California! And right now Stonefire is offering a 10% bonus on Gift Card purchases of $50 or more. Now Ivy and her family can enjoy a great family dinner at their favorite SoCal restaurant. The gift cards should ship in about two days and be here in plenty of time to put in their stockings.
What else can Holly put in Ivy's stocking that would be a real treat? O, of course, a gift card to Massage Envy. In fact, maybe she'll just treat herself to a gift card too. A massage at Massage Envy would be a great "sister activity" to enjoy while the guys take the kids to a movie. Right now at Massage Envy you can get a FREE $25 gift card when you purchase $100 in gift cards and a free $50 gift card with a $150 gift card purchase. Decisions, decisions!
Now for pick-up arrangements. Ivy and her family will be arriving on a day when Holly's schedule is packed so getting to the airport to pick-up them up is proving to be a bit of a challenge. Holly needs a reliable shuttle service that will pick-up Ivy's family at the airport and bring them right to Holly's front door. Of course, Shuttle Express. They're Holly's favorite way to get to and from the airport because she doesn't have to deal with the traffic. That will be perfect for Ivy's family. For an extra-special treat, maybe she'll just book the Town Car service and request an SUV. That will be a comfortable ride for Ivy's family of four, plus their bags, and they can just sit back and relax as they're chauffeured from SeaTac.
While Ivy's family is here, both families will be making a quick trip down to Hood Canal to visit their parents who just recently purchased a beautiful new home at Alderbrook Properties.  Mom and Dad wanted the girls and their families to come down for the Hadlock Home for the Holidays Open House. This is such a fun and festive event of sampling local cuisine and wine tasting and gives the guys a chance to play a little golf.  It really is a beautiful place where their parents are excited for their girls and their families to see their new home.
Of course, this little get-away means Holly will need to make boarding arrangements for their pets.  Three kids, two cats and a Pitbull Mix make for busy days, but their pets are family too and they need to be well cared for while the rest of the family is away.  A quick call to Cascade Kennels is a must. Cascade Kennels' facilities are second to none and offer discounts when you board more than one pet.  It's only $20 per night to board her cat, plus she gets a 10% discount for her second cat. Oh, and why not just treat the cats to a fun Spa Package while they're there!
Now, since Ivy's dog is a Pitbull mix, he can't board at Cascade Kennels, but he can board at Hillrose Pet Resort. Hillrose Pet Resort always welcomes all breads plus they're conveniently located near SeaTac airport, which is great when the family travels.  Ivy easily booked online reservations and dropped their pup off upon their arrival.
WOW! Holly has had quite the productive holiday season, and thanks to her favorite businesses who make it easy for her to shop and take care of details online, Holly can now relax and enjoy this most wonderful time of year. It will be so great to be with Ivy and her family this Christmas season. What better way to enjoy the holidays then spending time with family?
From all of us here at lodestar marketing group……. Happy Holidays! We hope this most wonderful time of year meets all of your expectations.